The basic activity of our company is focused on the production of the best quality substrate for mushroom growing. Since our product is closely related to such delicate components as (e.g.) straw, we must remember about the safety of their storage.  Focusing on the protection of our emplyees and production, a pilot "GSR" program (Rapid Response Group) in the field of safety was implemented at the Karol Kania i Synowie – Pawłowiczki Branch.
The group aims to react quickly to dangerous situations noticed at the plant:
Helping those in needs
Taking fire-fighting actions and evacuating employees
Participation in trainings aimed at improving the safety of KKiS employees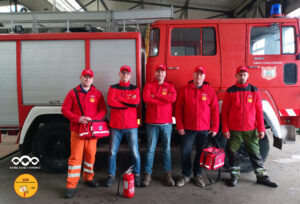 We strongly suport the initiative and count on the implementation of the GSR in our headquarter Piasek and in the branch in Debowa Kłoda.